Royal Palm Beach Painting Contractors
Royal Palm Beach Painting Contractors has been South Florida's most recommended house painters since 1993. Our residential and commercial painting services include interior house painting, exterior house painting, commercial painting as well as popcorn ceiling removal, wallpaper removal and knockdown texture application for you home, office, or commercial building Painting Contractor Royal Palm Beach.
If it is Exterior House Painting Royal Palm Beach that you require, Anthony does several tests whilst there at your house to establish the condition of your exterior walls. This is a very important part of the estimation process as depending on whether your house has peeling/failing paint, mildew, cracks or chalking will depend on the particular preparation work ARC Painting will perform to ensure the best results, longevity of our work being a high priority. For either peeling, chalking or mildew a thorough pressure clean with at least 4000 will be necessary for obtaining the best and long lasting results. If however your exterior walls are in good condition, a light pressure wash to simply remove, dirt, cobwebs, contaminants and other debris would be sufficient.
If cracks are found to be present in the masonry, an Elastomeric Patching Compound would be necessary to fill these. Elastomeric Patching Compound will stretch up to 300%. This means that if the cracks continue to open up over time, the Elastomeric will expand keeping the masonry intact and not susceptible to water intrusion. Anthony will then thoroughly check the condition of the caulking around each window. Any failing or loose caulking will be removed and a Polyurethane Sealant will be applied to ensure the windows are water tight.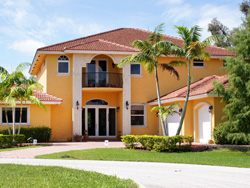 If gutters are currently installed on your house, when we repaint the exterior of your house in Boca Raton, they will match the surface they are attached to. House Painters Boca Raton will make sure your house is aesthetically pleasing in every way. Exterior House Painting Royal Palm Beach guarantees your happiness
We will then calculate how much Exterior Paint we would need to complete the job. Since paint prices can vary anywhere from 15 dollars a gallon to over 75 dollars a gallon, we will provide you with an estimate that best fits your budget and needs. When we send you your proposal via email, we will also send you our Painting Contractors License from Palm Beach County,  Liability Insurance, and Workers Compensation Insurance. We also send you some valuable information that any homeowner/business owner should know when looking for a contractor. We have found this to be very helpful for our clients (regardless of whether we do the job) and have had many clients call us to thank us for helping them avoid a potential disaster by hiring an unlicensed contractor posing as a licensed contractor. If you were to make the mistake of hiring an unlicensed contractor you would be liable for any injury they may sustain on your property as well as any damage they may cause to yours and neighboring properties. This could potentially cause you financial ruin. IT IS SO IMPORTANT TO HIRE A LICENSED CONTRACTOR. We will also send you some links to help you do your own research to see whether or not the other Exterior Painters you are considering to paint your house have all the proper documentation needed. ARC Painting of Boca Raton takes pride in our Exterior House Painting Royal Palm Beach.
Royal Palm Beach Painting is licensed and insured, and that's special because not all painting contractors in Royal Palm Beach are… in fact most are not and you really need to be careful who you allow to paint your home or office. Accidents will happen and who is going to pay if your home is damaged or if your painting contractor gets hurt? If your painting contractor is uninsured, you will pay him to sit home a recover while your home remains unpainted or damaged and you will still have to pay another painting contractor to finish the job.
Painting Company Royal Palm Beach is family owned and operated just as it has been since 1993. My family has been painting homes and commercial buildings since the late 60's when my Grandfather was running the family painting business. My family and I have a strong reputation in Royal Palm Beach, West Palm Beach and all of South Florida.
House Painters Royal Palm Beach are so sure you will be happy, we don't even ask for deposit. We are the Best Interior House Painters Royal Palm Beach Company.  ARC Painting Royal Palm Beach also offers many other services. Such as  Interior and Exterior House Painting Royal Palm Beach.
So if you are looking for a Licensed and Insured Painting Contractor to do all of your Royal Palm Beach Painting call me Anthony Caucci the owner of ARC Painting Royal Palm Beach. I will personally come out to your home or business and give you an estimate. I will present you with my license and insurance on the spot and go over the several options you have. ARC Painting of Royal Palm Beach only uses top of the line materials and all of our painters have at least 7 years experience.
Interior House Painting Royal Palm Beach is ARC Painting of Royal Palm Beach specialty.